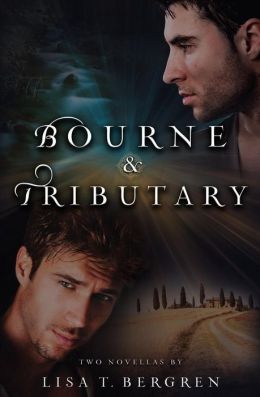 BOURNE & TRIBUTARY
by Lisa T. Bergren
Series: River of Time, #3.1 & #3.2
CreateSpace (July 2012)
Source: Purchased my copy
Amazon
|
Goodreads
It's possible to beat a She-Wolf. But you cannot keep her down... The Betarrinis and the boys they love are back with these two novellas that follow Waterfall, Cascade and Torrent. In Bourne, the story picks up right where Torrent left off...Find out what has happened to wounded warriors returning from battle, to the Betarrinis, fighting for the men who've captured their hearts, and what will happen to them next... A year later, in Tributary, Lia struggles to overcome the fear that constant battle has heaped upon her; Gabi and Marcello face an unexpected crisis; and Lord Greco may be ready to leave the grief and loss of his past behind him, so that he might grab hold of the future...
Lisa Bergren is the best! I love the fact that she listened to her readers and brought back our favorite River of Time characters in two novellas, Bourne and Tributary. Each of these books are about 1/3 of the length of a novel, but let me tell you, they didn't lack any of the thrill, suspense, or adventure the full length novels had! They didn't disappoint and were just as gripping as the first 3 books.
I loved the dual perspectives in these books. I got so used to reading from Gabi's POV so I wasn't too sure if I'd like the switching back and forth between her and Lia, but Lisa pulled it off so well! I actually really liked Lia's voice a lot. My favorite thing about getting into her head was that we got a better glimpse at the growing romance between her and Luca. She has always played hard to get with him, but in these novellas she allows herself to get closer to him. Their relationship felt so believable and I loved seeing it grow into something more.
Of course, it was great getting back to Gabi. You can really tell how much this girl has grown since book 1. Her life has changed so drastically and the time period and situations she's faced have matured her a lot. Now that she's married to Marcello, Gabi has responsibilities to her people and we follow along as she adjusts to her new role as Lady Forelli. She still finds herself fighting a couple more battles in these books and there's still plenty of danger all around and people who would love the She-Wolves dead. All the intense scenes just makes it even more addictive and so hard to set the book, or in my case Kindle, down.
Since these novellas are so short, I really don't want to try and give you my own synopsis of the stories. And I'd probably end up giving a bunch of spoilers :/. But I will say that these were fantastic additions to the River of Time series. I can't get enough of these characters. They embrace life and all the wonderful things it has to offer, even in the midst of war and tragedy. They cherish their lives and each other and are all about love and sacrifice. I'm hoping Lisa decides to continue their story, I can't say goodbye just yet.
About Lisa T. Bergren

Lisa Tawn Bergren is the best-selling, award-winning author of over 40 books, with
more than 2.5 million copies sold. Her most recent works includes a YA series called River of Time (Waterfall, Cascade, Torrent, Bourne & Tributary), God Gave Us Easter, a devotional called Upside-Down Prayers for Parents and the Grand Tour Series (Glamorous Illusions, Grave Consequences, and Glittering Promises). She's currently at work on a new YA series called Remnants, coming out in 2014.

Lisa's time is split between managing home base, writing, and working on ducks with her husband, Tim (RMrustic.com). Tim's a worship leader, graphic designer and duck-sculptor. They have three kids–Olivia (18), Emma (15) and Jack (10).

The Bergrens make their home in Colorado Springs, Colorado.