Hey guys! I'm so
very
excited to have Jennifer Hartz on the blog today. She's the author of the super awesome Future Savior series. If you haven't checked these books out yet, you definitely need to cause you're missing out! Ok, that's all the gushing I'll do about this series for now ;) Here's Jenn!

I have to give a shout out to my friend, Crystal Gomez, for letting me borrow her blog to continue
sharing my conversation with the Future Savior, Christina Vaughn. Before I jump into it let me remind you of the two GIVEAWAYS going on right now. At the bottom of the blog you'll be able to enter to win 1 of 4 autographed copies of FS1: Conception. The other contest is attached to my "Couples Of Meric" blog… click the link below to enter:
http://jenniferhartz.com/2013/08/23/giveaway-countdown-to-fs5-revelation-day-12/
Okay… if you didn't get a chance to check out the first three parts of this blog be sure to do so:
Okee Dokee… now you're ready for the rest of the interview!
***SPOILER ALERT!!! THERE BE SPOILERS HERE IF YOU HAVEN'T READ THE FIRST 4 BOOKS OF THE FS SERIES***
I fumble and drop my tape recorder. It takes me a moment to get the thing going again, but Christina waits patiently.
"Where did Charis send you?" I ask when I finally get situated.
"It would take me all day to explain it to you --"
"I'm not going anywhere," I interject.
"No, but I have no idea how long I have. Charis could whisk me back to Meric any second," Christina tells me.
"But I have so much I want to ask you. There are so many details you left out," I say, flipping through the chicken-scratch notes I had tried to take while she talked.
"Who knows," she says with a shrug, "maybe Charis will send me back again."
"I hope so!"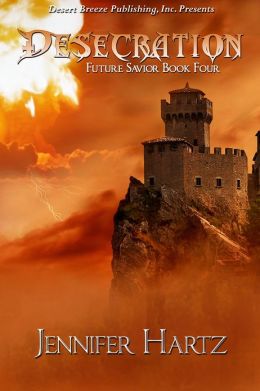 She grins at me and continues, "Like I said, it would be way too hard for me to explain where Charis had sent Shaw, Rayliex, and me. Let me just say that we got to learn how the Guardians got their powers."

(Check out FS4: Desecration for this story!)
"I bet it was amazing," I say.
"Indeed. We also learned that Meric is more than ten thousand years in the future. We even learned why there are so many different races of people and strange varieties of animals in Meric."
"Oh really? What was it?"
"Nuclear bombs. There was a massive war that wiped out practically everything. What was left was mutated because of the fallout."
"Wait a second… are you telling me there's going to be a massive nuclear war?" I gasp.
"Umm… yes, but don't ask me when. I can't tell you exact dates because I can't change the past," she says with a frown.
"But… I … but… ah…"
"The less you know the better," she tells me.
"If you say so…"
"Anyway, while Shaw, Timothy, and I were learning all about how Meric came to be --"
"Timothy?"
"Oh right, Rayliex embraced his true heritage. That his father was actually my father, Davis. He discovered that our father wanted to name him Timothy so he decided to change his name and become his father's son instead of what his evil mother wanted him to be."
"So he joined your side?"
"Yes, he really became my brother."
"That's incredible!"
"I was so happy he decided to join us and truly become my brother," she says with a smile. "I was able to keep track of things going on in Meric with my powers. Nothing looked promising. All of my dear friends were in dire situations and my mother, Lorna, was abducted by Leticia."
"Oh no!"
"I knew we had to rescue her, but we weren't in Meric. We were in the past, seeing how Meric came to be. Eventually, Charis sent us back to Meric and… guess what…"
"What?" I ask, getting excited.
"Shaw and I were finally married!"
"That's wonderful!"
"Yes," she replies with a huge grin, but her smile faded. "However, our happiness didn't last long. While we were on our very simple one day honeymoon something truly horrific happened."
"What happened," I ask, perched on the edge of my seat.
"A nuclear bomb detonated far off in the southern sky," she says, her voice most serious.
"A bomb… in Meric…?"
"Charis' sign leading us to the Xertic realm and Leticia's sign to call her armies." She looks at me and gives me a very sad smile. Then she gets to her feet.
"Where are you going?" I ask, staring at her in amazement.
"Charis is pulling me back to Meric."
"How can you tell?"
"Oh, trust me, I can tell."
"But what about the rest of the story?"
She just grins at me and vanishes right before my eyes.
To be continued on Friday, August 30th at the blog of Paige McQueen (Page by Paige) … Click the link below:
http://www.thesweetandthesassy.wordpress.com
Learn more about author Jennifer Hartz and The Future Savior Series at the following links: Jennifer's website:
www.jenniferhartz.com
Twitter:
@JenniferLHartz
Facebook:
https://www.facebook.com/TheFutureSaviorSeries?ref=hl
Amazon buy link for FS1: Conception:
http://www.amazon.com/Future-Savior-Book-One-ebook/dp/B0041HXOUG/ref=cm_cr_pr_product_top
a Rafflecopter giveaway