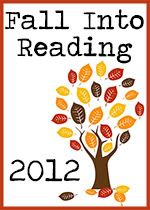 Fall into Reading 2012 is hosted by Katrina over at
Callapidder Days
and runs from September 22-December 21. To read more about this challenge,
go here
.
I came across a blog post about this challenge a few days ago and thought it'd be fun! I was originally going to keep the number of books I was going to attempt to read this season short, but I was challenged by a friend so I decided to raise the number a bit. This list consists of books I got for review and some that I've been wanting to read just for fun.
And that's my list! Check back here throughout the next few months if you'd like to see my progress. I'll be marking them off as I finish them.
Will you be signing up for the challenge? Let me know in the comments, I'd love to see your list :)
Happy Fall everyone!