Getting to know the blogger behind the reviews!
Yup, it's time for another blogger interview. I've been wanting to do an interview with this blogger for a long time and was so SO happy when I emailed her about it and she said YES =D So please help me welcome Lydia from
The Overweight Bookshelf
!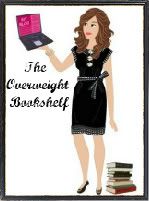 Thank you so much for joining us today, Lydia! How long have you been blogging?

I started a lifestyle blogger, Woes of the Single Christian Female, in 2007. In effect, it was a trial to find my blogging "voice" and niche. In 2010 I decided to move my book reviews over to a subject-specific blog tailored for book addicts like myself. And so, The Overweight Bookshelf was born.

What got you started in blogging your book reviews?

Screaming "Read this book!" in the middle of a library was a little too obvious and turning my favourite authors' books to face outwards in a bookstore didn't seem enough, so I decided to join the masses and unleash my recommendations on the Web. Have you ever sat in a cafe and noticed someone reading a great book? Doesn't every fibre of your bookwormish being want to lean over and say "Just wait until you get to this part!" Well, book blogging allows me to do just that without looking like a book creeper.


What genre is your favorite and why?

My blog focuses primarily on Christian fiction, but my favourite sub-genre would have to historical romance. I adore inspirational fiction because it ministers, encourages, provokes, and draws readers to a closer intimacy with God. The purpose of inspirational fiction is the not solely to entertain, but to interact with readers through insightful writing and an inherent message of hope

.

Who are your 3 favorite authors?

Historical: Julie Lessman, Laura Frantz, Deeanne Gist

Contemporary: Susan May Warren, Denise Hildreth-Jones, Ronie Kendig

Suspense: Kristen Heitzmann, Ronie Kendig, Sibella Giorello

YA: Jenny B Jones, Lisa T Bergren, Melanie DIckerson



Do you enjoy doing memes? If so, which ones can be found on your blog?

Occasionally. I think memes are a great way to network with other bloggers, explore different sites, and-to be frank-help offer new content to readers when writer's block looms. I enjoy "Mailbox Monday" and "Teaser Tuesday" but am always on the lookout for new and fun ideas.


If you had the chance to invite some book characters over for dinner, who would you choose?

Any one of Jenny B Jones' heroines. Mind you there wouldn't be a lot of eating at this dinner because I would have indigestion from all the laughing.




Is there a particular movie or TV series that you preferred over the book version?




A movie could never capture all of the nuances of a character and their innermost thoughts and yearnings. I certainly enjoy movie adaptations and seeing how they compare to my imaginations of characters and setting, but I usually find them wanting.



What are you reading at the moment? How do you like it so far?


In Too Deep by Mary Connealy. An entertaining read so far with the quintessential Connealy humor, spunk, and action.



A character you love to hate?


What is it with "bad boys"?! Lisa Bergren's Lord Greco has me twisted, confused, and intrigued.



How many books do you read in a month - roughly?


My goal is 8-10 books a month depending on my schedule.



Which do you prefer, Ebook or Print?


I am undeniably a lover of the physical book-the cracking sound the binding makes when you open a new book, the musty smell of a well loved novel, the little notes made in the margins of particularly thought-provoking page, the dog eared corners of works in progress, how beautiful they look lined up on shelves or stacked on bedside tables. But, I have succumbed to the e-reader craze out of necessity. I infamously (at least in my family) filled a carry-on rolling suitcase during one of my extended trips visiting my parents and nearly wrenched my arm out of its sockets lifting that sucker into the overhead compartment. My Kindle is quite convenient when I travel, and I love that I can download books instantly. However, there are certain authors that I have to have a hard copy of their books. My bookshelves would not look complete without a physical copy of their newest release.



What do you like to do when you aren't blogging?


I live and breathe my job as a high school teacher and it brings me almost unparalleled joy and entertainment. I love being actively involved in my home church and desire to participate in more international missions. I come from an Italian family. Does that require more explanation? Let's just say we like to spend time around each other eating, laughing, and being merry. I also enjoy candlelight dinners and long walks on the beach... :)



What advice would you give new book bloggers?
In terms of actual blog posts, my biggest plea with new book bloggers is to understand the difference between a book review and a book summary. You should not be giving a summary of every high and low point of the plot. If your review needs the tagline "Approach with caution," then it is not truly a review. You are risking the reader's enjoyment and disrespecting the author's hard work by over-sharing and not allowing readers to discover the book for themselves.

Book blogging is all about building relationships through books-whether it is with readers, bloggers, authors, or publishers. The book blogging community has afforded me the opportunity to meet incredible people from around the world, who I now consider my friends. Your common bond may be a love for books, but the friendships you build will enrich your whole life.


* * *

Thanks again for the interview! I had loads of fun getting to know you more =D