Getting to know the blogger behind the reviews!
Hey all you lovely readers! I have another interview for you with one of my favorite people in the blogosphere, Paige from
Page by Paige
!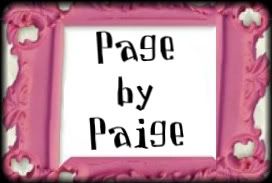 Tell us a little bit about your blog.
Well now let me think.....Page by Paige was created to be a fun way to tell others about great books, entwining the most important thing in a Christians life, God! I review some great books, have some great authors come on over and chat, and throw in some great giveaways! I review Romantic Christian fiction, anywhere from Fantasy (I'm a speculative Christian nerd) to historical to Jenny B. Jones and whatever genre it is she writes...
How long have you been blogging?
I started Page by Paige last April, and thank God everyday for the opportunity! Especially that I've gotten to meet some great people, like Crystal here!
Aww *blush* thank you! What got you started in blogging your book reviews?
Books have been a huge part of my life, and I love to tell others about my literary loves. One day I woke up and thought "Humm, wonder if I could write my reviews on the net?", and there you have my very prestigious blogging back ground! :p
Lol! What genre is your favorite and why?Ohh goodness *bites nails* I would hafta go between historical romance and romantic speculative fiction... So have I ever mentioned I'm a romantic at heart? ;)
What is/are your favorite book(s) of all time?Eek! Besides the Bible (that's a given) C.S. Lewis' Chronicles of Narnia, The Lord of the Rings trilogy, A Kiss of Adventure (formerly The Treasure of Timbucktu)by Catherine Palmer, added recently have been The River of Time series by Lisa T. Bergren, Future Savior series by Jennifer Hartz and Halflings by Heather Burch. And yes, in every single book I'm in love with a fictional guy! ;p
Who are your 3 favorite authors?
God, Jesus, and the Holy Spirit! I have a list of a bout a billion after that!
If you had to pick one, what's the best book you've read in the past year?
*dear in headlights look*...one book?! One book?!!!!! I don't think I can do it...
If you had the chance to invite some book characters over for dinner, who would you choose?
All the lost boys from Heather Burch's Halflings, Lord Greco from River of Time, Peter from the Chronicles of Narnia, and so many more that I can't really think of!
What are you reading at the moment?
I just finished The Secret of the Love Letters by K. Dawn Byrd, and just started The Gardian Duke by Jamie Carie!
How do you like it so far?
Anything by K. Dawn Byrd is going to be great, and she didn't disappoint with the first book in her new series Zoe Mack Mystery series! The Gaurdian Duke is pretty amazing so far, with plenty of intrigue to keep me hooked to its pages! :)
Ooh! Those sound like interesting reads. I'll have look them up once we're done here :) How many books do you read in a month - roughly?Hum roughly about 8! I usually read about 2 books a week, sometimes more (Ok so maybe I read 4 this week) and sometimes less! :)
Which do you prefer, Ebook or Print?
Honestly, I love my print books. The smell of paper and ink, the rustle o pages! I probably like them too much, as is obvious by my room that's overtaken with books! But I also enjoy the speed an convenience of my Nook Color! It's pretty cool I can get a book the day it comes out, without having to get out of bed! The backlight also comes in super handy!
What do you like to do when you aren't blogging?
Read! Attend my amazing little school in a little Texan town, hang out with my awesome friends and my family, swim, have fun, work on writing and art, along with guitar! And I continually strive to praise Jesus for everything thing he's done for me, all he's yet to do! Yep, I think that's about it!
What advice would you give new book bloggers?Stay with it! My life got really crazy after I started my blog, and while I didn't slack of my reading, I did slack of my writing. It would have been so much better if I had stuck with it and gotten more posts in! Also, don't let anyone get you down about it! If its what you love to do, do it! And don't let others control your decision.
That's great advice! If there was something you'd want your readers to take away from reading your blog, what would it be?
Joy! I think joy is a hugenormas part of our lives! I love seeing people happy, and being able to bring a smile to there face gives me a lot of happiness! I want you to leave with a book in your hand, a smile on your face, and a spring in your step! But the most important, I want to share the great love God has for me, you, and everybody!!!
I can assure you I always leave your blog with those things. Thank you for the fantastic interview... and the laughs! It was great having you here, Paige!