Musing Mondays is a weekly meme hosted by MizB over at
Should Be Reading
. This week's musing asks...
What is/are the first book(s) you're reading for the new year?
Yesterday I finished reading
The Baker's Wife
by Erin Healy. Does it count if I started reading it on New Year's Eve?? Oh well, I finished it yesterday :) It was a great, suspenseful read(I LOVE SUSPENSE!), but for some reason I didn't
love
it like I wanted to. You can read why in my review that'll be posted by the end of the week. For now, you can read about it on
Goodreads
.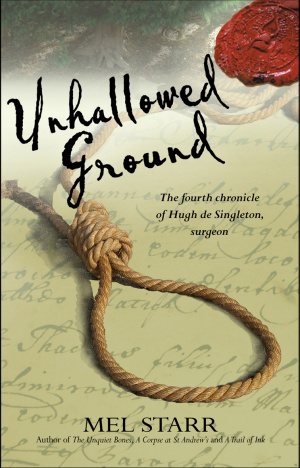 Today I'm starting
Unhallowed Ground
by Mel R. Starr. It's the fourth book in a series that I haven't read before, so I'm hoping I'm not lost through the entire thing =/ It sounds pretty good though..
Thomas atte Bridge, a man no one likes, is found hanging from a tree near Cowleys Corner. All assume he has taken his own life, but Master Hugh and Kate find evidence that this may not be so.
What book are you starting the year off with?