Here's another interview for you guys. Today we have Wendy from
Wall-to-Wall Books
with us. Yay!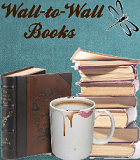 Tell us a little bit about your blog.
I love being a book blogger! It is one of the best - fun things I do. I try to post at least a few times each week. I do full post reviews, as well as what I call "Speed Reviewing" which is several short blurbs about books I have read over the past weeks that didn't get a full page. People seem to love these!
I also do LOTS of giveaways! I like doing giveaways because I love to "share the wealth", it costs so little to send out a book. So even if I send 4 books per month I am only spending - 10 - 12.00 I don't think that is too much so others can enjoy the books I have loved.
I've always loved your "Speed Reviewing" posts. It's a fun idea! :)
How long have you been blogging?
I have been blogging in general since Jan of 2008! but always included a few book reviews in some of my posts. I decided to separate my blogs in 2009. So now I have a book blog as well as my personal blog -
itsJUSTme
About living life in the Fingerlakes area of NY.
What genre is your favorite and why?
I have many, are you ready?
Historical Fiction (as well as Christian His. Fiction)
Chick-Lit
Fiction (Woman's Fiction, Christian Fiction)
Magical Realism
Memoirs (Bios. etc.)
Travel memoirs
Non-Fiction
And some Paranormal (but NO Vampires!)
About the only thing I do not read is - Fantasy, Sci fi, and Mystery
What is/are your favorite book(s) of all time?
Ha! I actually do have a list!
Jenny's Mountain - by Elaine Long (out of print)
Bittersweet Country - by Elaine Long (also out of print)
Tilting at Windmills - by Joseph Pittman
The Believers - by Janice Holt Giles (also out of print, hmm this seems to be a trend here!)
And my favorite newest book is - The Help - by Kathryn Stockett
I've heard so many good things about The Help. I need to read it soon!
Who are your 3 favorite authors?
Wow, this would be way too hard to choose! I will just pick 3, but they might not be my top favorite but 3 of the top favorites, does that make sense?
Stephanie Grace Whitson (Christian Fiction)
Ted Dekker (Christian Suspense)
Joshilyn Jackson (Contemporary Fiction)
Do you enjoy doing memes?
No, LOL
If you had to pick one, what's the best book you've read in the past year?
Hmmm, again very hard to answer, there were so many I loved! but I would have to say my favorite was Demonglass -by Rachel Hawkins (book 2 in the Hex Hall Series, AWESOME!!!!)
Have you read a book that you would like to rewrite the ending of?
Not really, BUT... One of my pet peeves is a non-ending! I hate books that don't really have an ending unless they are part of a series of course. So i would like to go and write endings for all those non-ending books
How many books do you read in a month - roughly?
I read a lot! Prob at least 2 - 3 every week, so maybe 8 - 10 per month!
Which do you prefer, Ebook or Print?
Ya know.... A year ago I would have told you Print. But I saw the nook color advertised and HAD to have it! Received it as a Christmas gift last year and LOVE it!!!!! Now I don't know how I would ever live with out it! I probably read about 50/50 between print and eBooks.
What do you like to do when you aren't blogging?
I love to knit! I knit almost as much as much as I read! Almost... heehee
What advice would you give new book bloggers?
Just go for it! Do it, take that step! There's no reason not too. It is so much fun, and you really can't do anything wrong!
* * *
That's great advice! Thank you so much for the interview :)

Find Wendy