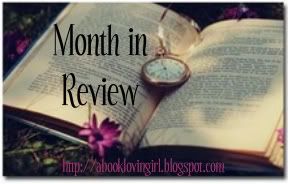 What did I do?
I didn't post a lot this month. I was sick for about two weeks and that's the main reason I wasn't doing much on here.
I started From My Shelf To Yours. It's a used(all the books are still like new!) book giveaway I'll be doing regularly now.
I only posted 3 reviews this month. Again, SO sad! Now that I'm feeling a lot better, I'll hopefully do more in November.
My monthly $10 Gift Card giveaway ends today. Go enter if you haven't!
Guest Posts
Melody Carlson guest posted! You can go here to read it
Books Read
Becoming Me by Melody Carlson
Cascade(reread) by Lisa Bergren
Torrent(reread) by Lisa Bergren*
A Dime a Dozen by Mindy Starns Clark*
*Favorite book(s) of the month
Reviews Posted
(title, author, rating)
Blog Awards Received
Thank you!

Giveaway winners
Ann, winner of Water's Edge by Robert Whitlow
That's my month in review. How did your October go?