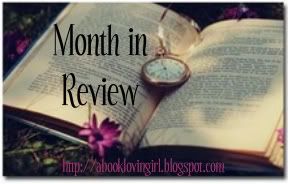 What did I do?
I decided to change my blog URL and ended up losing my 50+ followers. I felt so dumb! Lol! I'm over it now...kinda.
Savanah at Ridiculous Reviews featured me in her 'Every 20th Follower Feature'
I joined the 'September is Read Your Own Books Month' challenge. I chose to do the Giraffe level, which was 4-6 books. I was able to reach 5!
I joined in on the amazingly fun read-along event, Waterfall Wednesdays. It was 5 awesome weeks of discussing Lisa Bergren's fabulous book, WATERFALL. I had a blast and wish it lasted longer =(
I only posted two reviews this month. SO sad! I'll try harder to post more in October.
Books Read
Water's Edge by Robert Whitlow
Blue Skies Tomorrow by Sarah Sundin
Conception(Future Savior, Book 1) by Jennifer Hartz
Cascade by Lisa Bergren
Torrent by Lisa Bergren*
*My Favorite Book of the Month
Books Reviewed
(title,author, rating)
Blog Awards Received
Thanks ladies!
Giveaway Winners
Kathy, winner of Blue Skies Tomorrow by Sarah Sundin
Carol, winner of a $10 Amazon Gift Card
That's my Month in Review. How did your September go?