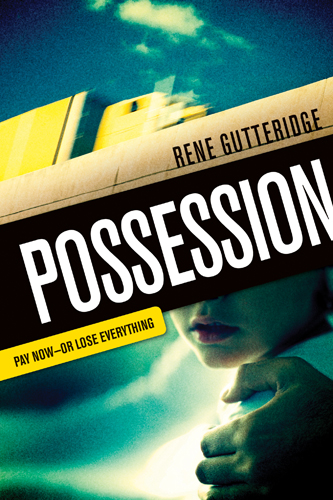 Possession by Rene Gutteridge
Fiction/Christian/Suspense
About the book -
In the aftermath of investigating the D.C. sniper case, police detective Vance Graegan is burned out on life and love. Hoping to save his marriage, he quits the force and moves his wife and son to the other side of the country. But when the movers decide to hold his belongings for ransom, Vance is determined to ensure that his family's new beginning is not ruined. Soon, though, losing his possessions becomes the least of his problems as everything they are fighting for begins to unravel in the hands of Vance's past. In an unforgettable climax, a little boy's innocent faith brings a group of desperate people to their knees. What is at stake counts for everything, but nothing can prepare Vance for who is behind it.
My Review -
Former police detective, Vance Graegan, is ready to put his past behind him and move forward. Working the 2002 DC sniper case took a toll on his marriage and life. He's in desperate need of a fresh start, so he moves his family to California so his wife can finally fulfill her dream of opening her own deli. Things seem to go as planned until the movers decide to hold all their furniture and belongings for ransom. Like if that wasn't enough, Vance's darkest secret is discovered and threatens to destroy him and his family. Will he figure out who's behind it all in time?
I love novels with lots of mystery and suspense and that's exactly what
Possession
is full of
.
From the start we can see that Vance and his wife Lindy were already having marriage problems. When secrets and lies from the past begin to surface, it just made their situation worse. It was hard not to feel bad for them. They were sceptical about all the praying their son, Conner, did and really had no interest in God. Of course that little boys faith begins to stir up a little curiosity in his parents and when they're at a helpless point in their life, they realize that it's impossible to do it alone.
Gutteridge's amazing storytelling grabbed my attention and I just couldn't put the book down! Right from the beginning you are taken on a wild ride that will keep you on the edge of your seat. I felt like I could see the whole story play out in front of me. This is a well written story with a great plot, unique characters, and a little boy who's faith can move mountains.
Possession
is fast paced and entertaining from start to finish. I loved every second of it! This is the first novel I've read by Rene and it definitely won't be the last.
Rating - 5 stars