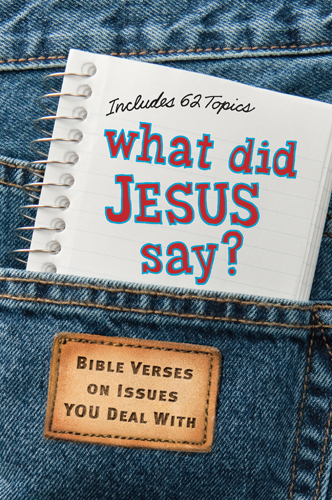 What Did Jesus Say?: Bible Verses On Issues You Deal With. Diane Bay.
Tyndale House Publishers. March 2010. Paperback. 192 pages.
What Did Jesus Say?
is geared toward tweens and teens. This Bible reference book is full of 62 different topics that are relevant to issues teens face these days. They can quickly look up a subject and see what Jesus had to say about it, along with helpful commentary relating to the subject. With scripture taken from the New Living Translation, everything is easy to read and understand. This is such a good reference to go to when teens just want to know what scripture says about topics such as abandonment, sacrifice, hatred, leaders, sin, etc. This is a great resource to provide your teen with, it will encourage them to get into God's word and get a better understanding on what He says about different issues, challenges, and life itself.
My Rating: 4/5 stars
To buy this from the publisher click
HERE
(This book was not provided for review purposes. It is one that I won from a blog giveaway.)