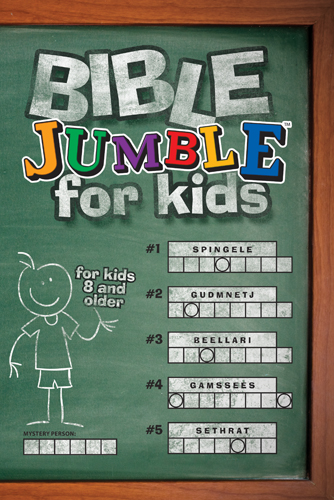 Bible Jumble for Kids. Christopher Hudson. Tyndale Kids. May 2010. Paperback. 224 pages.
Bible Jumble for kids is a fun and entertaining puzzle book filled with a variety of 200 different jumble puzzles. The puzzles are separated into six different categories which are: Traditional Jumbles, Mystery Jumbles, Jumble Detective, Jumble Criss-Cross, Find the Jumble and Bible Passage Jumbles. This is a great way for kids to learn even more about the characters and stories in the bible, while doing it in a really fun way. If the kids are having a hard time with one of the puzzles, there is a very helpful Bible verse reference at the top of the page. All the answers are in the back of the book as usual.
Even though this puzzle book is for kids, I had a lot of fun solving the different jumble puzzles. I definitely recommend Bible Jumble for Kids.
My Rating: 4/5 stars
(This book was provided for review by Tyndale House Publishers.)