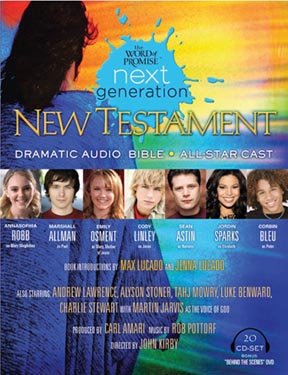 The Word of Promise Next Generation New Testament Audio Bible was released by Thomas Nelson Publishers. It's amazing and I absolutely love it. There are two sets you can choose from, either the 20 cd set or the 3 disc mp3 version.
This dramatized audio bible that stars a Hollywood cast is a great resource for youth to hear the word of God in a very convenient and fun way. The cast includes Cody Linley(Dancing w/the Stars & Hannah Montana) as Jesus, Emily Osment (Hannah Montana) as Mary mother of Jesus, Corbin Bleu(High School Musical) as Peter, Jordin Sparks as Elizabeth, Annasophia Robb(bridge to terabithia) as Mary Magdalen, and many more.
When I bought this I was expecting it to just be a reading of the bible, but when I started to listen to it I was very impressed and excited to hear the rest of it. The sound effects, cast, and music sound really good together. I bought the cd set and it also includes a "behind the scenes" dvd and a 40 day listening plan. I would definitely recommend this to anyone that is looking for a more convenient way for their kids to hear the word of God. I'm looking forward to hearing The Word of Promise New Testament with the adult cast.
My Rating: 4/5 stars
(This audio bible was not provided for review purposes. It's one that I purchased.)